Mobile Touchless Car Wash at Your Door Step
Finally, a high end detailer offers a safe touchless cleaning system that beautifies as well as protects your vehicle.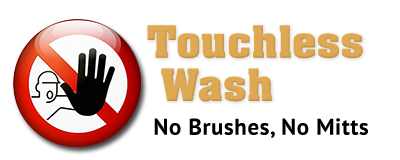 Why Touchless is Much Better than Wash Mitts
Soap requires friction to get under the dirt and grime to loosen it from the paint surface. Until now this has been done with brushes or wash mitts. Although car wash brushes cause the most damage to a car's finish, even a wash mitt can scratch a car's finish. Mitts can introduce cross contamination coming from either your car, or any other car that was washed before, causing fine scratches in your car's finish. This dirt can be introduced to the wash mitt from either the brake dust that is found on a car's rims or any other dirt on the body of the car.
In contrast, the Excalibur's touchless system injects the soap at the same pressure as the water coming out of the nozzle to get under the dirt and loosen it with ultra clean water. We use reverse osmosis purified water instead of using regular tap water because the tap water contains all the minerals that can harm your car's surface. 
Areas of service include: Tulare, CA; Visalia, CA; Hanford, CA; Selma, CA; Clovis, CA; and Fresno, CA.
 See our regular maintenance programs with convenient billing.

Only Excalibur Mobile Detail has the Touchless wash set up.
Eliminates any cross contamination to vehicles finish from dirt or brake dust.
Soap is pressurized with the water to get under the dirt to loosen it. Instead of possibly causing scratches in the paint's finish due to contaminated wash mitts.
Only reverse osmosis purified water is used instead of tap water containing harmful minerals.
Safe for all types of finishes.
Excalibur Services & Pricing
EXCALIBUR MOBILE DETAIL Visalia CA offers everything from a weekly car wash to Paint Correction and a 3 to 10-year Ceramic Car coating with written warranty or a full auto detail. Mobile detailing and car wash done by professionals. 16+ years' experience. Areas of service include: Tulare, CA; Visalia, CA; Hanford, CA; Selma, CA; Clovis, CA; and Fresno, CA.
Phone: (559) 802-4392